DATABASE DEVELOPMENT
A Database is the core of almost every application, it provides support to customer services, internal processes, sales and marketing. iSplendid with its considerable experience is eager to provide their clients with database solutions ensuring high quality and performance. As an Oracle partner iSplendid has access to internal Oracle knowledge base and Oracle technical consulting. iSplendid has a pool of certified specialists with solid and profound knowledge of Oracle technologies.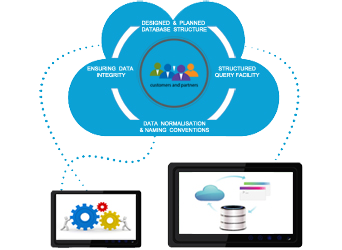 What we do
Our experienced database design consultants can help evaluate existing Microsoft SQL Server, MySQL, Oracle and Microsoft Access databases, and create new relational databases to manage your important business data. Our database consulting team can analyze business requirements, document use case scenarios, and design and implement custom database solutions tailored to your exact needs.
Database Consulting
Our database consulting team has helped numerous organizations identify and resolve complex business problems. We have hands-on experience in a wide variety of business technologies and environments. We can help you identify and resolve problems with your existing business processes, information systems and technology utilization, resulting in a more efficient database development process.

Database Modeling and Design
We possess skilled expertise in Database Modeling and Designing. We use Modeling techniques like E-R Modeling, Semantic Modeling, Star Schema Design and Snowflake Schema Design.
Database Optimization
Databases today are large, mammoth and complex, and hence optimization of databases to ensure fast and consistent application performance is a necessity. One important aspect in optimization is Data Profiling which involves assessment of data sources and values to ensure consistent, logical and unique data quality. Identification of primary keys, optimizing query performance, Database indexing and server tuning are few of the many techniques to enhance Database Optimization. While taking up custom database solutions, we ascertain Database optimization through the lifecycle of the project viz. design, development, testing, deployment and support.
Query Optimization
Query optimization is one of the main functions of relational database solutions in which multiple query plans are examined and a good query plan is identified. Query optimization is essential for any application's performance. Our database experts can help in identifying resource utilization and analyzing execution plans using cost based optimizer. We undertake Query Re-structuring, Advanced optimization techniques and SQL tuning to achieve Query optimization.
Database Monitoring
We offer database monitoring as a significant service as it is pivotal to track the potential database and to measure the availability and responsiveness over time, especially peak time monitoring. Implementing the effective database monitoring routines proves beneficial for increased application availability, early detections of database outages failures and table corruptions, predictions on storage requirements and index performance. As a part of the database management services and monitoring, our team of experts will evaluate the database logs and reports to identify the long running SQLs, CPU usage, memory usage, I/O usage and ensure tuning of the same.
Database Replication and Synchronization
Data replication and synchronization is one of the key areas that we have experience in. We offer Multidirectional Data Synchronization, Data replication to Heterogeneous sources and Real time data replication through replication tools that read the data from transaction logs and synchronize the data between the systems.
Database Programming
Database programming is an integral part of any application. Our skilled pool of database programmers have good experience in PL/SQL programming, writing stored procedures and other database components that are required in any application development.
Database Performance Tuning
Database is an integral part of any system and the repository where the data is stored today is in terabytes. Hence it is essential that access of data from the database is utilizing optimal resources and giving the output in the desired time. It is our constant endeavor to maximize the utilities of system resources to ensure efficient and effective output with faster speed and accuracy. It involves query tuning, designs of database files, environment setup, choosing the right DBMS and much more.
Database Installation, Migration and Upgradation
We have an extensive experience in setting up and installation of heterogeneous RDBMS, Columnar and NoSQL database. We can help the client surpass the cumbersome task of reading through manuals; facing teething problems while installation, lengthy installation procedures and many more. We handle Data Migration projects, which involves transferring data between databases, leading to extraction of data from one to another data source. We have a wide experience in Database Upgradation, which involves moving the database from the current version to a higher version, without any loss of data and utilizing the new features of the upgrade to the best possible extent.
CONTACT
Submit your project request (be it a detailed specification or just an idea) using our contact form.
ANALYSIS
We will contact you shortly to clarify your project requirements.
PROPOSAL
We will provide our free non-binding bid or proposal for your review.